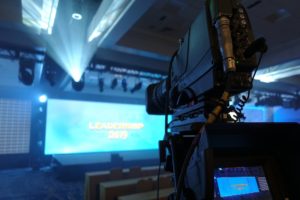 When it's up to you to plan for a big presentation at a business conference, you're under a lot of pressure. You want to make an impact with what you have to say, but you want it to be entertaining as well. You hope to keep the audience engaged, but what you're presenting is substantive, so you're not looking for anything gimmicky either. Of course, you might not be in a position to rent hundreds of pieces of high-end equipment, in which case you'll need to rely on what's available to you to make the best showing possible. Here are a few thoughts on how to utilize audiovisual systems in Houston, TX, for a successful presentation.
Augment Your AV Equipment
Depending on the kind of presentation you're planning, you don't necessarily need to rent anything fancier than what you already have. Audiovisual companies in Houston, TX, carry items that go above and beyond mere projection equipment and speakers. You can supplement your presentation with decorative elements such as LED colored lighting, attractive drapes, or accent lighting. You'll be amazed at the difference you'll see in your presentation by the addition of simple touches such as custom lighting gobos or mood lights.
Have a Clear Aesthetic Vision
You're probably already aware that there's more to making a business presentation than a screen and a pie graph. Far in advance, do your best to get a clear picture of the feel and tone of your presentation. You don't have to get into the specifics at first, but discuss your ideas with your AV team and key staff members, so everyone's on the same page. This will also encourage the free exchange of ideas you'll need to create a truly impressive show.
Don't Underestimate Sound
Poor visuals aren't ideal, but poor sound can absolutely ruin a presentation. After all, if the audience can't hear what you're saying, then the whole exercise is pointless. Work with your AV team to ensure the sound equipment you have is adequate for the space and for whatever music or effects you plan on playing. If you're not renting equipment and plan to speak into a microphone, use the setup time to practice your speaking. Position staff members in the audience to make sure they can hear you clearly, and that you're not popping your Ps.
Take Advantage of Smart Technology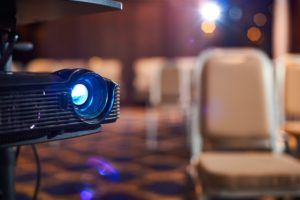 How people communicate with each other has changed dramatically over the last 20 years, and business presentations have had to evolve to keep up with the latest trends. Work with your AV company to see what ideas they might have to integrate your audience's smartphones into your presentation. Attendees appreciate it when they can access data, maps, or other pieces of relevant information via apps or the local network, so envision how you can work this to your advantage.
If you want to get the most out of your existing AV equipment or are interested in augmenting it with rented equipment, contact AV2GO. It doesn't matter if you're planning on an audience of 20 or 2,000, we're the experts in audiovisual systems in Houston, TX. Call us today at (800) 248-8174.