The COVID-19 pandemic has changed the way we do just about everything in our daily lives. But, arguably, the thing that has changed the most is the way people are working and doing business. Many businesses have been forced to temporarily close their doors, while others are continuing operations on a more limited scale. Many employees are now working from home, which can make communication and collaboration difficult—that is, if you're not utilizing virtual conferencing options. Keep reading to learn how virtual conferencing on an audiovisual system in Houston, TX, can help you keep business running smoothly, no matter where your employees are working from.
Team Meetings as Usual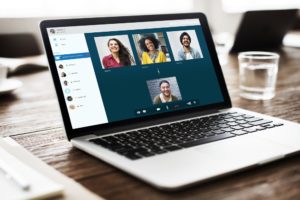 If your business relies on regular team meetings to keep everyone on the same page, this can easily be achieved through virtual conferencing tools. Every member of your team can jump onto a group video call. Your employees can engage with one another, see each other's faces, and offer opinions in the meeting just as they would in a physical conference room.
This helps you to avoid miscommunication issues caused by mass emails, which can be overlooked, looked at too late, or filtered into spam folders. Plus, nobody wants to be dealing with "Reply All" responses all day long while working from home. A virtual team meeting allows you to share important information and have live discussions no matter where team members are located.
Live Chat Features
Of course, your business's communication needs aren't limited to meetings. Sometimes, employees have questions or you need to talk to a team member about a client's needs. Live chat tools allow you to communicate in real-time without interrupting someone's current tasks with a phone call. This is a happy medium between sending an email (which may not be seen for hours) and making a phone call (which can be very disruptive). It allows you to share information quickly, have live conversations, and get work done from wherever you may be.
Essential Team Trainings
Another way COVID-19 has impacted many businesses is through frequent and necessary changes to company policy and procedures. Government guidelines for businesses during this pandemic have shifted often, forcing businesses to adapt accordingly. For your company, this might mean you need to retrain your employees on new procedures every few days. This can be done easily through webinars and video conferencing.
You pre-record a training session to send to all your employees, or you can have them all hop on a video conference to engage in the training live. With the latter, you can set up the training to notify you when an employee has completed the session. For the latter type of training, you can choose what attendees see during the call, whether that be you, a PowerPoint, a video, or anything else necessary for the training.
Of course, we all hope that this pandemic will pass quickly and that you can get back to business as usual. However, even when your employees are back in the office, virtual meetings are a valuable tool essential to any modern business. Contact AV2GO, an audiovisual provider in Houston, TX, today to get set up for your first virtual meeting with your employees. Call now!