A Large Event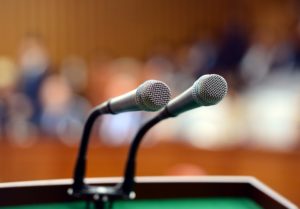 When you're planning a large event in Houston, TX, that involves a presentation to a large group of people, one of the most important things to get right is the audio visual portion. You need this part of the event to go seamlessly. That means doing a pre-event test or rehearsal, getting the presentation started without hiccups and getting through it with no technical issues. It also means presenting your audience with an experience they can understand and relate to with compelling imagery and relevant audio. If your attendees' arrival is delayed due to bad or no parking, they get stressed; If the food is bad, their appetites are unsatisfied; But if the audio visual does not work or comes up short, they miss the point and/or lesson all together.
The Essentials
Planning an audio-visual presentation for an event allows you to break up the flow of speakers or in-person presentations and give your audience a chance to watch something a little more dynamic. Insert a speech from someone influential via videoconference such as the CEO or a spokesperson. You can often enliven a conference that's gotten a little dull, say before a break like lunchtime, with one of these presentations. It's also a great way to wrap the event and send attendees away inspired.
The visual component of such a presentation is one that cannot be delivered in the same way by a live speaker, even if he or she is using digital or physical visuals. The reason is that audio-visual presentations, with their more polished components, allow the audience to enter into the experience differently and more fully.
Audio-visual presentations can serve as the lynchpin for the overall feel of your event. Say, for instance, the event centers around a certain subject. You can use physical visuals around the venue that match those in your audio-visual presentation to enhance the conference-goers' overall engagement with the subject. Videos can be shown to better support your point. IMAGE can be used for putting the speaker on the big screens to better show the speaker's expression or to ensure your attendees in the back can see who the speaker is.
Entertainment and Polish
If you're hosting a gathering of company executives at Conference venue or a massive industry conference at the George R. Brown Convention Center, know that you need to look into audio visual equipment rentals in Houston, TX, for your next big event. You'll find that you're able to engage the crowd better when you work this type of element into your overall presentation. Not only does an audio-visual presentation help keep your attendees focused and even entertained, but when done in a quality manner, it also lends your entire event a little more polish. So, whether you're tasked with putting together a company-wide event or you're hosting a gathering of organizations, you're more likely to impress your audience, and very possibly, your supervisors when you make a quality audio-visual presentation part of your repertoire.