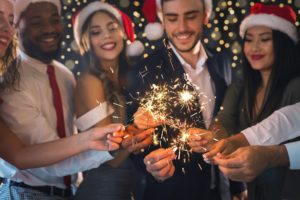 When it comes to spending Christmas with the family, you want to make sure everything is perfect. From the tree, to the decorations, to the food, there's a lot of pressure to see to it that this Christmas is something special. The same goes with office parties. You might not have to worry about cooking the juiciest turkey anyone's ever seen, but you do want your employees to enjoy and have the chance to really unwind. After all, a great holiday party is more than just a good time. It's a great way to bring everyone together and create a feeling of camaraderie. Here are a few tips for making this year's office Christmas party a memorable one.
1. Pick a Theme
Pick a fun and memorable theme – and no, "party" doesn't count as a theme. Give your employees the chance to dress up. If they don't want to dress up to fit the theme, that's fine too, but a theme allows you the opportunity to decorate and entertain in a way that is inventive and amusing. If it's corny, embrace it. Having fun with being silly is what the holidays are all about.
2. Get a Photo Booth
Parties can be so much fun that people forget to take pictures. A photo booth encourages people to get away from selfies and share a moment with friends and coworkers. Supply the booth with props like hats, sunglasses, and feather boas (or whatever matches your theme) to make memorable pictures that you can display around the office afterwards.
3. Provide Drinks, but Carefully
It's a Christmas party, so you'll want alcohol. No one wants to be known as the boss who served only soda at the one big party of the year, so make allowances for wine and other alcoholic beverages. There are a few simple steps you can take, however, to make sure things don't get out of control. Always serve food with drinks. You don't want people drinking on an empty stomach. Also, make sure you have plenty of options for non-drinkers, and keep the water flowing. Even for drinkers, having water ever-present is a great way to keep everyone hydrated while giving them an option to slow down.
4. Hire Entertainment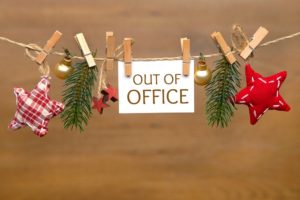 Depending on the size of your office and the venue, it might be a good idea to hire professional entertainers. A band or a DJ can go a long towards making your party extra fun and distinctive. Another idea is to hire a company that specializes in audio visual services. Houston, TX, has several companies that can provide music and projected images so that your office party resembles more a fancy nightclub than a simple get-together among coworkers.
5. Be Forgiving the Next Day
Since weekday venue rentals are less expensive — and your employees' weekends are often booked — most Christmas parties are weeknight events. Therefore, don't expect everyone to show up bright-eyed and bushy-tailed the next morning. In fact, you'd be wise to schedule the party the day prior to a slow work day just in case.
Whether you need to schedule a caterer, hire a band, or you require audio visual services in Houston, TX, you'll need to make sure everyone's available in advance. Taking the necessary time to get it right is the best way to ensure that this year's office Christmas party is one for the ages. Contact the team at AV2GO for more great office party tips!