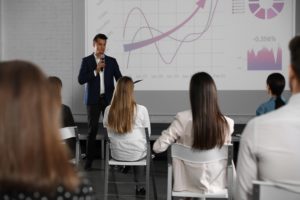 Whether it's for a birthday or company party, putting together an event requires a lot of careful planning. Ahead of the big day, major and minor details have to be ironed out, from the guest list and program flow to refreshments and entertainment sources. There's also the matter of ensuring everyone on board will follow through so that everything goes according to plan.
But, these aren't the only factors that guarantee an event's success. Often overlooked, audio-visual equipment plays a huge role in keeping things going smoothly. After all, no one wants to spend hours watching a drab presentation. Similarly, people can't dance through the night with barely audible music.
Instead of talking about how productive or fun the occasion was, you'll be complaining about the technical issues that ruined it. To avoid that faux pas, take note of these must-have devices and services for a successful event.
Sound Systems
Unless you tell them otherwise, an event organizer will leave the auditory specifications up to the venue. This means you and your team will have to work with the standard equipment offered by the place. While that might not seem like such a big deal, there's a chance they won't provide you with the best or the latest sound systems. This is typical of these businesses since their focus is the location, food, and drink – not audio quality and design.
Before you finalize the reservation details and sign the contract, do a quick check of the available devices and see if they fit your standards. If they don't, hire an outside audio-visual (AV) company. They'll let you choose from a wider variety of sound systems, which include microphones, speakers, amplifiers, and accessories.
Not all venues have the same acoustics, so let AV experts know where the gathering will be held. This will help them come up with a system that's best suited for the place. Another detail they should know is the kind of occasion you're planning. Serious functions, like seminars, conferences, launches, and other corporate events, don't typically require wireless or traveling microphones. These are more appropriate for birthday parties and weddings.
Projectors and Screens
If you're thinking of showing a slide show or video, you'll need a projector and a matching screen. The display's specifications and setup will depend on the content type, audience count, venue layout, and location. For a big space, go with rear projection; it creates high-quality images with good visibility. Meanwhile, an outdoor or naturally lit venue will require equipment fitted with a bright bulb. This will make the visual aids more visible against the light.
Another option is a liquid crystal display (LCD) or plasma monitor, which shows clearer images that can be scaled up without looking stretched or distorted. If you have a bigger budget, you may also go with a set of light-emitting diode (LED) panels.
For something a little more out of the box, ask your provider if they do projection mapping. It makes use of a projector, but its light isn't directed to a flat surface. Rather, it's mapped onto a three-dimensional shape, making it, as well as the image, appear breathtaking.
Event Lighting Systems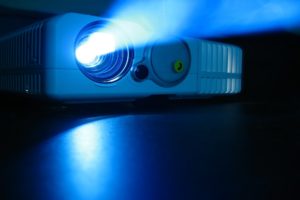 Another element essential to an event's success is the lighting design. It not only allows spectators to see or direct their attention to a speaker, but it also sets the mood. Cool, bluish tones make people feel alert and energetic, while warm, reddish ones provide a relaxed ambiance. Using differently colored lights, meanwhile, creates a dramatic or fun atmosphere.
Get in touch with AV2GO to rent the best audio-visual equipment in Houston, TX. They've got plenty of devices and all the expertise that can turn your event vision into a reality.