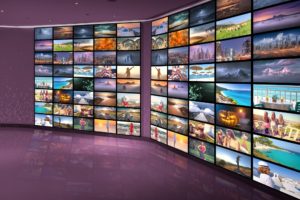 We live in an age in which video is the undisputed king of communication. While printed PR materials are still valuable in some ways, video is the preferred method of promotion for many businesses because it's accessible, affordable, and versatile. Video can be shared via social media, company websites, and on company premises using video walls. In fact, one of the leading audiovisual productions in Houston, TX, involves the use of video walls as a dynamic branding tool that can emblazon your company's brand in the minds of consumers, competitors, and potential future stakeholders.
But why are video screens so useful in corporate branding initiatives, and how can they be used to bolster your brand? Video screens capture the attention of your audience from the moment they enter your business. They're versatile enough to be used in communicating a wide range of messages. They're also more affordable now than they've ever been before. Keep reading to learn more about the role of video walls in promoting your brand.
What Is a Video Wall?
To understand how useful video walls can be in your next branding campaign, you must first understand what a video wall is. Video walls are exactly what their name would suggest. They are walls made of an assembly of video screens that are arranged to create what appears to be a single, wall-sized video display. They often utilize LCD or LED displays because those technologies are flattering and allow for seamless installation in many businesses.
Why Choose a Video Wall for Branding?
Some may postulate that the same goals could be achieved with less expensive technology such as projectors or large single displays. However, the key factor in using a video wall instead of these other pieces of AV hardware is all about screen resolution and image quality. A tiled video wall can produce high-quality images that simply can't be reproduced by giant single screens or projections. For branding purposes, it's extremely important that your graphics, images, and logos are conveyed with clean, clear high quality, as they'll become the de facto visual representation of your brand. They also allow for more versatility than single screens, as the images are controlled remotely on video walls and can be installed in various configurations to meet your branding needs.
How Are Video Walls Used in Branding?
Video walls can be a dynamic way of communicating visual likenesses and core corporate values to your customers and members of the public who visit your premises. Video walls reinforce your brand and provide an excellent venue for reinforcing your brand with high-quality visuals and creating lasting impressions through brand advocacy. Video walls can be used not only as visual anchors for key branding elements such as color palettes, logos, and branding collateral, but they can also be used in a concrete way to convey company information, relate corporate values, show off product lines, provide an avenue for product demonstrations, and inform the public of ongoing promotions or initiatives.
How Do You Maximize Video Wall Branding Impact?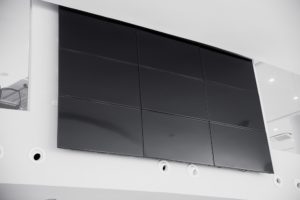 Because video walls are meant as a marketing channel that can visually define your brand and objectives to the public, it's important that they are installed in places where your target audience will see them. High traffic areas such as lobbies and reception areas are always a great location for video walls, as you'll have a captive audience for your brand messaging. It's important to sensibly tailor the specifications of your video walls to meet the dimensions of the room, as an expansive floor to ceiling video wall could dominate a small room and overwhelm the audience. Finally, when designing content for your video wall, you should observe the same visual graphic standards that are used in other forms of company collateral to create brand unity while effectively communicating the desired content.
If you're looking for an excellent way to bolster your branding efforts in a way that is visually stunning and highly engaging, consider the use of video walls made of audiovisual screens in Houston, TX, to reinforce your branding efforts. To learn more about how video walls can serve as a powerful tool in your next branding campaign, contact AV2GO at (800) 248-8174.