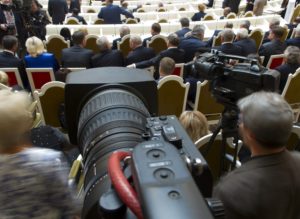 If you've ever been at a conference or attended a presentation where the equipment wasn't working just seconds before the presentation was supposed to start, then you may have an inkling of how frustrating it would be to be running the event and not have working equipment well in advance. There are many benefits to working with an audio-visual provider in Houston, TX, whenever you have audio, lighting or projection equipment needs such for a presentation or a conference. Here are some of the reasons to consider hiring out these services rather than trying to do it on your own.
Handle Technical Difficulties
Nothing will make you start sweating faster than equipment failures and technical difficulties when you should be giving an important presentation. Not only will hiring audio-video professionals help make sure that the equipment is ready to go ahead of time, it will also help in that they can take care of this kind of thing for you. They are the most efficient in troubleshooting any difficulties.
Last-Minute Changes
No matter how big the presentation or how many guests are waiting for the presenter to start speaking, there are often last-minute changes that need to be made. Rather than having you scramble to figure out a new method of presentation or leave you trying to figure out new software, an audio-video pro can roll with the last-minute changes and provide the right equipment for what's needed right then.
Better Equipment
You might think you have pretty good equipment for your office needs. However, when you're presenting at a large conference or a seminar, the equipment necessary is going to be vastly different and it's possible you've never used anything like it before. Working with audiovisual companies to get the right equipment in line will be very helpful for you and will increase the quality of the presentation.
Work with Professionals
It is your AV provider's job to identify any challenges and opportunities in advance of your event for building an optimal experience. When there are people in your office handling the AV needs for a presentation or seminar, there's a chance that things could go wrong, and they won't know how to handle it. Work with an AV company that's experienced and has a good reputation and you can benefit from their vast experience at similar events to get you the right equipment for the perfect presentation you planned.
Working with an audio-visual shop in Houston, TX, for your audio-visual needs at a conference or meeting that you have will not only help you with selecting the equipment you need and configuring the layout of the space in relation to your equipment. It will also save you time, money, and a whole lot of hassle. Make sure that your next presentation goes off without a hitch with quality audio-video pros.