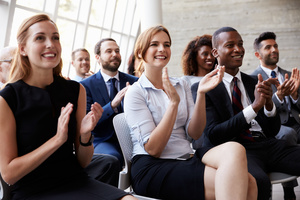 If you are planning an event, you have a lot of aspects to plan out. One of the most important parts is getting your audio visual equipment squared away. After all, if no one can see or hear what's going on, you won't have much of an event. As you're looking into AV equipment rentals in Houston, here are a few of the essential and optional pieces of equipment for you to examine.
Presentation Equipment
We know that different people have different comfort levels with technology. For that and many other reasons, there are three very different options to choose from when picking out the visual portion of the presentation equipment. You may choose to go with a projector and screen setup, you might want to hook up a computer to a large flat screen HDTV or a video wall. These options can be used by themselves for a small audience or you can use several of them in any combination to ensure full visibility to your message for much larger audiences. These can be optimized at a large residence, meeting facility, hotel, convention venue and even stadiums.
Microphones and Sound Systems
This is probably the most obvious need when it comes to event planning. It's rare to go to an event and find the speakers using the power of their voices alone. Whether you want to use a headset microphone, a handheld one, one on a podium or a multiple of these you need to make sure your presenters are heard. You need to consider some speakers for your sound system and there are different options based on how far you need the sound to carry. You will then need a way to control the sound with an audio mixer board to adjust your volumes. You'll want to do a test run with this before the event, since on the day, you'll need to know how to accommodate different people speaking at different volumes to make sure they are fairly uniform in volume. When you are looking at Houston AV equipment rentals, make sure you invest in an easy-to-use mixer board, or else your whole sound system could be ruined.
Lighting and Camera (IMAG)
Depending on your type of event you might choose to use some lighting to light up a stage, add definition and contrast with colored lights or outright create a 'Hollywood' effect with moving lights. You can use lights to cast your name, logo or company onto a wall. In addition, a camera with lighting can add additional visibility of you presenter when you have a large audience. Referred to as Image Magnification or 'IMAG' for short, the camera can capture the action on stage then it can be projected onto your screens, video wall or HDTVs. The camera can record, as well.
Creativity with AV Equipment
AV2Go can help with ideas. You describe your event or provide a theme and they will know what to suggest. Color lights on a waterfall, fill the ceiling with beautiful colors, use multiple screens around with different images or useful information, fill the area with music, light up trees with colors or take digital picture of your attendees then project them on screen for a few giggles. How about a search light that hits the clouds and moves around?