Technology plays a big role in creating an immersive experience. Cutting edge, high-quality visual, and auditory technology turn a theater event into a special experience. To create this type of presentation requires multiple elements that you can find at an audiovisual company in Houston, TX.
Audiovisual comes down to hearing and sight. A simple audiovisual (AV) set up requires a projector, a screen, and sound, but there can be many layers to each of these elements.
Projectors
There are different types of projectors. Lamp projectors use rays of light to transmit images onto a screen. Laser projectors use a laser. The future of projection is going to laser. They're more expensive initially, but they make lamps irrelevant (which is good), and they pay off in the long run as they give you twice the hours you get from a regular projector.
Whether you're thinking about a lamp or laser projector, you can buy or rent what you need at a company that handles audiovisual equipment rentals in Houston, TX.
Screens
A good quality screen improves picture quality and overall enjoyment. Screen coatings and size factor into results. Coatings can change the way the projector's light is reflected and affects brightness, contrast, and viewing angle.
An LED (light-emitting diode) video display is a screen display technology that uses LEDs. They've become popular because they produce vibrant colors and can enhance audience engagement.
Sound
Clear, good quality sound is a crucial part of an engaging experience. Someone who can't hear or understand what's being said isn't going to enjoy the event. Thankfully, you can find top quality audiovisual equipment in Houston, TX.
Trends in AV Technology
In recent years, technology trends have centered on digitalization and connectivity. The goal is to improve the quality of the experience and the level of audience engagement regardless of the type of event or venue, facility, or gathering space.
With increasing competition created by the immediacy of personal devices, a one-size-fits-all approach doesn't work, so there's a return to a focus on content and production values. Better production values create demand for high-quality AV solutions that precisely deliver content to the audience.
The Fundamentals Matter Most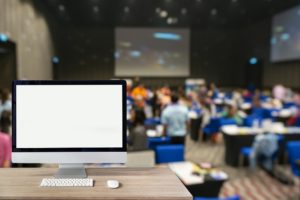 When you think of top audiovisual equipment in Houston, TX, the first thing that comes to mind is often a movie theater. Technology can make a movie feel almost as if you're really in the middle of the action. With special effects such as chairs that shake and move, surround sound, 3D images, and scents, a cinema event can be an engaging, immersive experience. But AV isn't just for movies. There are several other events that people purchase or rent AV equipment for, including stage plays, corporate meetings, church events, conferences, fundraisers, club productions, sporting events, weddings, and other special social or entertainment events.
Still, no matter what the event or occasion is, quality projectors, screens, and sound equipment are essential to making the event the best it can be.
People watch plays and movies to be entertained. Successful speakers know that the stories they tell are what most people remember because stories engage emotions. Technology plays a big role in creating an immersive arena that transports the audience into a story so they can experience it. Cutting edge high-quality visual and auditory technology turns a theater event into a unique, memorable experience. Check out AV2GO for audiovisual equipment rental in Houston, TX, that meets your needs.