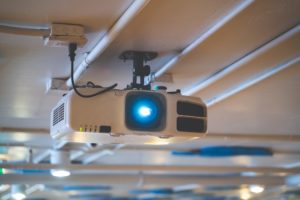 What you would consider to be the best audiovisual equipment in Houston, TX, depends largely upon your agency and your specific demands. Not all AV tools are the same, and there are definite pros and cons to certain choices. However, courthouses and municipal buildings often perform presentations and communicate information to the public on a regular basis.
Given certain popular demands and common expectations, it's quite possible to put together a general list of recommendations that should be some of the best options for almost any government agency or local jurisdiction.
Conferencing and Streaming
Conferences are common for agencies and businesses alike. It seems there's really no avoiding the need for conferences, but the right gear makes a huge difference in the quality and reliability of any conference. Quality microphones are a big help, since they help provide clarity during conference calls. Some microphones can be built into your conference room, which keeps them out of sight, so the room doesn't feel cluttered. Other microphones pickup in a 360-degree range, so they're excellent for spaces where you have many participants.
Streaming has also become incredibly popular. It's also a good way to cut down costs, since you can limit travel expenses. There are plenty of software-based solutions for remote coordination, such as Zoom or Webex. Even something as simple as Skype is quite helpful. When coupled with a whiteboard or other tools, you can bring your video conferences to a whole new level. The software includes encryption, so you can rest assured that your data is protected.
Control Room
A control room is never a bad idea. You think of a control room as a central hub. It connects to other in-room AV systems, which enables you to meet and communicate with people throughout the building. You could effectively host half a dozen meetings at once, without the need to relocate to a larger space. This is great for training seminars or agency-wide presentations.
You could broadcast a feed from council chambers or city council meetings. This would enable citizens to watch or even participate during the meetings. The connectivity a control room offers is truly impressive, especially if you want to be as inclusive and far-reaching as possible.
Wireless Presentation Systems
A wireless presentation system eliminates the need for so many wires, converters, and adapters. They're compatible with a wide range of devices, and some of them are very portable. This is ideal for schools, town halls, universities, and libraries. They're adaptable and surprisingly easy to master.
Digital Signs and Video Walls
You've probably seen these at stores or in posh malls, but digital signs and videos walls are becoming more affordable every day. They provide convenient video overflow if a given space is already overcrowded, and they can be used to show dynamic content to any available audience. They can be used for emergency updates, large meetings or conferences, and they're simply excellent for offering up-to-date news.
Assistive Listening Devices
Every government agency wants to be as accessible as possible. Assistive listening devices make content readily available to citizens with disabilities, which is an immensely valuable and helpful services. Technology has come such a long way that they can placed practically anywhere and survive even the harshest environments, which makes outdoor venues more viable.
Clearly, the best audiovisual equipment in Houston, TX, depends largely upon your needs, but there are some obvious winners when it comes to aiding government agencies. Speak with AV2GO at 800-248-8174 to learn more or to receive helpful recommendations.