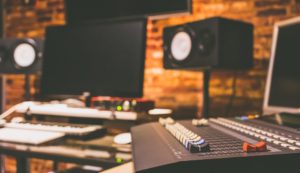 There are plenty of occasions that call for audiovisual equipment rental in Houston, TX. Reaching out to your partners, putting together special events, and sponsorship presentations all tend to have a greater impact with the right equipment. Of course, your sponsorship approach doesn't always need to involve a large gathering or take up a lot of space. If you keep a few key concerns in mind, you can deliver the essentials, without the need for anything extravagant. Sometimes, less really is more.
1. Focus
Brainstorming sessions can be quite productive, but they're not always coordinated or focused. It's easy to come up with a thousand different ideas, and maybe half of them seem downright brilliant. Narrowing the scope is generally a good idea. Throwing too much at your sponsors at one time can be overwhelming. Clearly, you don't want to push too hard and overdo it.
The key is focus. Target critical factors, such as specific needs or deliverables, and stick to your mission. A focused message is easier to deliver and clearer. As an added bonus, it isn't difficult to understand. Confused sponsors are unengaged sponsors. If you can keep your presentation concentrated and distinct, you shouldn't have as much of a challenge.
2. Package
Yes, people like options. However, they don't want to be responsible for sorting through a million details. When it comes to audiovisual equipment, not everyone is an expert. Even people who are somewhat familiar with the technology can become discouraged if things become too complex. How do you provide great choices without going overboard?
Packaging is a great approach. Not everyone has the expertise to construct an excellent collection of gear, so it's worth prepackaging the basics. It isn't too challenging to build packages that are basic, intermediate, and advanced. In other words, the bare essentials, something a bit more substantial and impressive, and a final package that doesn't leave anything else out.
Specialty packages can be prebuilt as well. If you know that some of your sponsors have niche needs or particular interests, this could be incredibly beneficial for them. Consider establishing both easy-to-sell packages and perhaps one or two that fit area of special interest. When you put all of that together, you'll have a great assembly of packaged deals that can meet almost every need.
3. Simple
There's some truly impressive cutting-edge technology out there. Unfortunately, it's also quite costly. Additionally, it isn't often necessary. Going fully into the latest technology may seem exciting, but it's rarely needed. It's also quite costly. Without attracting a tier-one sponsor to fund it, it's likely out of reach. At least, it's probably out of reach in the foreseeable future.
Simpler is likely better. It makes it more manageable, less difficult to understand, and less challenging to communicate. Remember that what you're selling has to be re-sold by your sponsors to their executive teams. Making their job simpler for them makes the whole process easier for you as well.
4. Partners
Don't underestimate the value of your partnerships. Gaining the attention of sponsors is just the first step, but it's integral. Your partners can help you strategize solutions and create innovative approaches. Leveraging your resources should be second nature. Never forget that your partners provide one of your most valuable and beneficial resources.
Audiovisual rental in Houston, TX, can be hugely helpful, especially when you need to put together an impressive presentation or event. Contact AV2GO at 713-932-9779 if you have any questions or require assistance.