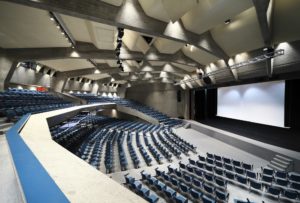 There's a lot of pressure on you if you have to set up a big event. In particular, you'll want everything involving the audio and visual aspects of your engagement to function properly. If something goes wrong either with the electronics or the presentation, it can create delays, or simply make the video presentations unenjoyable or difficult to follow. This is especially important when it comes to choosing the correct AV screen. So that you can be certain your event goes off without a hitch, here are a few things to keep in mind when it's time for you to rent audio visual equipment in Houston, TX.
Calculate the Number of Guests
As with other considerations like food and refreshments, you'll need to have a good idea of how many people will be attending. If the event is small enough — up to 100 people — you might not require anything more than a tripod screen. Relatively inexpensive, they're mobile, and can work for any space. They can be used for either 4:3 or 16:9 ratio content, and with adjustable legs, you won't have to worry about the height of the ceiling. For crowds over 100, a larger fastfold screen would be preferable. Designed for bigger crowds, fastfolds have legs that can add additional five feet of height, so while the impact is greater with larger audiences, they require ceiling heights of at 12 feet. If you're planning for a really big event (over 1,000 guests), truss screens come in practically any size you can imagine. They can either be flown or ground supported, and can be used for either front or rear projection, so they're extremely versatile as well.
Required Aspect Ratio
To have as few black bars appearing on your screen as possible, you'll want to know your content's aspect ratio. When discussing with your AV rental company make sure you specify what type of aspect ratio your video will be using so they can make sure to get you a screen that fits.
Venue Space
Find out the height of the ceiling on the spot where you're placing your screen. Since each kind of screen has different requirements, not every screen will work in every venue. If you're planning a large event, but the ceiling height is limited, it's possible you might need multiple smaller screens rather than one large one. Ask the venue managers for ceiling heights, or better yet, set up a pre-event survey with a technician.
Projector and Screen Compatibility
Keep in mind that not every type of screen will work with every type of projector. Larger screens require adequate lumens (brightness) in the projector to match the screen size. If you don't get enough lumens, the image will appear bland, faint, or even indecipherable. If you're already planning on using a particular projector, you'll need to adjust your expectations on the size of the screen accordingly.
Whether you've got all the rest of your equipment together — or you're just getting started — call AV2GO for the right audio visual screen in Houston, TX. They can help you with that or all your other AV needs. Give them a call today!