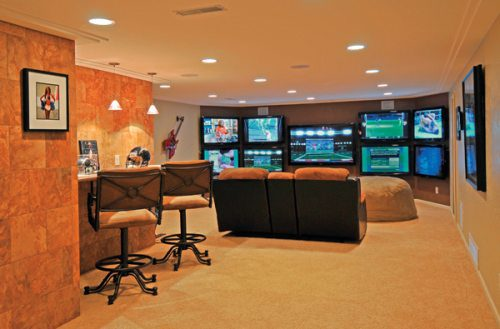 When it comes time for the Super Bowl, everyone wants to have the right equipment in their venue of choice or home to watch it. Good visual and audio are a must! Renting professional equipment from a reputable audio visual event rental company can make a great setting for an awesome party and add fun activities to enrich and prolong everyone's experience.
The Super Bowl is one of the biggest events on television every year. A great Super Bowl party has to have all the right equipment set up for it. Audio visual rental companies know what they are doing. A professional audio visual rental company will provide all of the appropriate equipment to maximize the experience. To ensure the greatest viewership for all attendees, you could consider one large projected screen or more, a video wall, or one large flat screen TV or more.
What about sound? AV rental companies will provide an evenly distributed sound system to fit your venue or home.
What about some unique visuals to stimulate the aesthetics of your event or party? Ever seen a nice picture frame around a large flat screen TV like you see around a mirror or beautiful painting? How about colored up lights on the walls? Envision this….  Putting a movie, Xbox, PlayStation or Wii onto the large screen or using that same sound system for a DJ. This is the type of creativity that you will get from the right AV rental company in Houston to enrich your event and leave lasting impressions on guest in attendance.
Rental companies will usually come set up and take down their equipment. That way, everything is done right and in a timely manner. The host of the party won't have to struggle putting things together. He or she can simply relax and enjoy the fun of having friends gathered to watch the big game on the right equipment. People who own businesses that specialize in audio and visual equipment have done their fair share of troubleshooting and can get around problems much more quickly than the average person.
Not only can audio visual event rental and production companies set up inside the home, but they can cater to outside gatherings such as hotels, country clubs and any other venue. Summer parties, birthdays, and weddings are so much more fun when there's good music, microphones to make speeches or roasts, and a place to display embarrassing slide shows. Good audio and visual equipment really adds a lot of value to any social or business gathering.